It is recommended that you go through the following 10 steps in studying about the nuclear threat to Tennessee.
This mapper is on someone else's web site so that you will need to save this address in order to return here if your back button doesn't work. However, you want to be sure to go the mapper site and calculate the damage to probable targets (cities) around you.
c. Stock supplies.

7. My Survival Web Page contains links to lots of other information such as free books to download about nuclear survival, links to plans for building shelters, and even free consultation about building a shelter.

8. If you are SUPER concerned about nuclear survival you might consider joining the

Ark Two Community.

9. If you like, you can look at our Honor List for groups that we know of that have an existing rural location. Most of these, however, have no direct interest or preparation in regards to nuclear survival. At the bottom of this page is a Directory of our contacts in Tennessee. Many of the local entries for states were listed because of their Y2K concerns and may not have any nuclear concerns.

10. And finally, if you wish to be on the mailing list for my irregular newsletter in which I analyze current events in regards to the nuclear threat, you can sign-up here:


http://lists.pairowoodies.com/mailman/listinfo/arktwo

This link will take you back to the Index of all the States

Link to the Directory for Tennessee
---
The following is the most commonly used prevailing wind predicted fallout pattern, but remember, fallout can go anywhere or everywhere (and probably will).

Continental US Fallout Pattern for Prevailing Winds (FEMA-196/September 1990)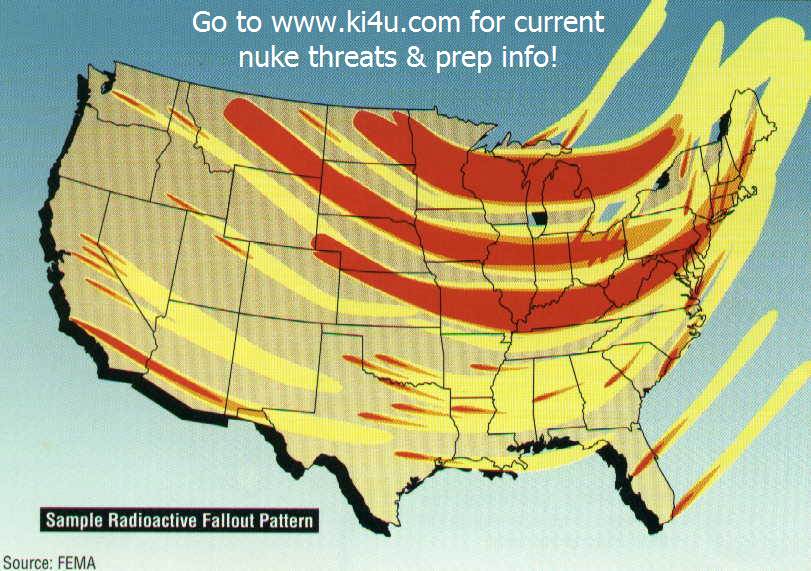 This link will take you back to the Information for Tennessee
This link will take you back to the Index of all the States
---
The Directory for Tennessee
---
Tennessee STATE Index

Tennessee (Chattanooga)
Tennessee (Jacksboro area)
Tennessee (Johnson City / Bristol /Kingsport)
Tennessee (Memphis) Christian Group
Tennessee (Nashville westward to Memphis)
Tennessee (Summertown) 2550 acres
Tennessee (Watuga Lake Area - Eastern tip) State TEAM Leader
TENNESSEE (Other)
---
164. Tennessee
Tennessee TEAM Leader
TEAM stands for Together Everyone Achieves More
The TEAM Leaders function is to tell you of other individuals in your geographic area, who are preparing and who would like to form a preparedness group or start a survival community.
Your contact for the Tennessee TEAM Leader is:
Paul Bound
My partner and I are also working on an inexpensive camper site that will be be an Y2K bolt hole. Primarily for family and friends but to make it economical we will offer it to the public. Already got some local guys.

EAS-PNB@worldnet.att.net
shore@usit.net
Click here to return to the
Tennessee Directory List
INDEX of STATES
Your Locality Registry
Be SURE to REGISTER before leaving!
---
134. Tri-Cities 2000
Johnson City / Bristol /Kingsport
Tennesse
Elizabeth Obos
(423) 434-2172

jlw@planetc.com
Click here to return to the
Tennessee Directory List
INDEX of STATES
Your Locality Registry
Be SURE to REGISTER before leaving!
---
193. Memphis Tennessee
We are interested in starting a preparedness group in Memphis. Have you had any other interest from anyone on our end of the state? We have a million plus people and a huge welfare population. It could get tough over here and it would wonderful to find some Christian people who are interested in helping ourselves and the community (via churches).
Thanks.
Debbie Gray

debbie.gray@usa.net
Click here to return to the
Tennessee Directory List
INDEX of STATES
Your Locality Registry
Be SURE to REGISTER before leaving!
---
257. The Farm
The Farm
The Farm is a community of 250 people living on 3-square miles of hilltop in Southern middle Tennessee. Founded in 1971 with a spiritual commitment to simple living and self-reliance, The Farm has pioneered a wide range of social and physical technologies appropriate to low-cost, high satisfaction community living. The community offers examples of solar building design, permaculture, micro-enterprise, mushroom cultivation, large scale composting and gardening, and regenerative hardwood forest management.
Q. What is the Farm?
A: The Farm is a human scale, full featured settlement founded by Stephen Gaskin, and 320 San Francisco hippies in 1971 as an experiment in sustainable, developmentally progressive human habitat. Being "full featured," it has all of the usual implements of village life -- grocery store, medical clinic, filling station, schools, water systems, pharmacy, post office, cemetery, and scores of businesses and residences. Being "sustainable," it attempts -- in all aspects -- to harmlessly integrate human activities into the natural world in a way that is supportive of healthy human development and can be successfully continued into the indefinite future. Being "developmentally progressive," it has a history of constantly pushing the envelope of what is economically feasible or even possible. While failures are an integral part of the experimental process, The Farm's successes are numerous and dramatic.
Among ourselves we try to use agreement and mutual respect to generate a friendly working environment. We recognize that there are many paths toward realizing personal ideals and that people have a wide range of individual social values, but as a group, we do not accept the use of violence, anger or intimidation for solving problems. The fabric of our community is created by our friendship and respect for one another, and for our land. The institutions we have developed to organize our community have changed over the years and will probably change more. The Farm is not really what we are doing -- it is how we are currently doing it. It is a process, rather than an end-result. Q: Where is the Farm?
A: The Farm was settled near Summertown on 1750 acres of rolling hilltops in the poorest county in rural Tennessee. It is 30 miles from the nearest hospital, 50 miles from the nearest interstate highway, and 75 miles from the nearest major city. It is also 35 miles from the birthplace of the Ku Klux Klan. It is on a windswept, barren limestone outcrop at the edge of the Nashville Basin. The formative settlement was built entirely from salvaged, recycled and local materials. A $1 road grader cut the roads. A $1 railroad tower provided the public water supply. Scrapped schoolbuses and army tents provided shelter from below-zero temperatures until the sawmill could begin milling native oak and salvage crews could harvest old tobacco barns, factories, and condemned houses. On a budget of $1 per person per day and no grants, no food stamps, and no welfare, the 320 original settlers bought the land, erected the buildings, and became agriculturally self-sufficient within 4 years.
Q: Why Tennessee?
A: In the mid - 1960s, many people went through a cultural change that took them away from their roots and cast them adrift, searching for something better. Disillusioned by the Vietnam War, disturbed by increasing violence and injustice in the nation, encouraged by the successes of the Civil Rights and other movements, and empowered by the strength of their numbers, many gravitated toward the West Coast, looking for alternatives. A hysterical nation reacted to the Hippies by pursuing them in their homes and workplaces and locking them up in prison, where many remain today. In 1970, a caravan of more than 300 of us left California to start an experimental community where our ideals could find expression in our daily lives. At $70 an acre, Tennessee gave us access to a large amount of land at an affordable price.
Q: What are our religious beliefs?
A: The Farm is a nondenominational church. We like to call ourselves "free thinkers," because we discuss religion and philosophy in terms that do not exclude any possibilities. People come to the Farm from a variety of religious traditions and disciplines and find those views treated with honor and respect. While individual practices may vary, our group practice is an on-going, free-ranging discussion. We consider ourselves to be a spiritual community. In keeping with our deep reverence for life, we are pacifists, conscientious objectors, and most of us are vegetarians. On Sunday mornings many of us like to gather for group meditation and church services out in the meadow.
Q: How is the community managed?
A: All members of The Farm are expected to contribute to the financial upkeep of the community through their earnings. Since our community operates like a small town, it has some of the same needs. We maintain our own roads, municipal buildings, and public water system. Community policies are arbitrated and implemented through an elected board. Important questions are discussed at town meetings and decided by community votes. We don't always reach complete consensus, but we generally try to have a high level of agreement in everything we decide.
Q: How do people support themselves?
A: About a third of the adults in the community work in nearby towns to support themselves and their families. Some work as independent contractors, while others work in local shops and industries. The rest of us make our living within the community, working for homegrown cottage industries like the Book Publishing Company, the Birth Gazette, Total Video, the Soy Dairy, the Dye Works, the Tempeh Lab, and Mushroompeople. Others are involved in community services like The Farm School, the Farm Store, the Gate, the Clinic, WUTZ-FM, and our community government. Some of us work in global transformation efforts through Farm-based charities.
Q: What was the change The Farm went through in 1983?
A: By 1980, the population had swelled to over 1200, but a series of reverses in agriculture and other enterprises led to a scaling back in the early '80s. "Human-scale" for that size parcel of land had been exceeded. Aware of their impact on the surrounding forest, the settlement cut its agricultural acreage by going to more intensive and permacultural farming methods, relocated outlying neighborhoods that impinged too deeply into the hardwood forests, and zoned off more than half of its acreage from all development other than management designed to encourage natural biodiversity. Back on sound financial footing in the early 1990s, The Farm acquired another 800 acres, which were similarly restrictively zoned, and established a charitable conservation land trust with the goal of acquiring and preserving the entire upper Swan watershed.
From 1971 to 1983, the Farm had a traditional communal economy like the Shakers or the Hutterites. After 13 years, we reorganized our economy, so that individual members could have the choice between simple membership and collectivity. While all residents belong to The Foundation, our communal experiment is called The Second Foundation and is optional.
Q: What is the economic commitment of membership?
A: All members of The Farm pay weekly or monthly dues which contribute to the upkeep of the community. We call it our "rent." The level of individual contribution, which is usually between $75 and $125 per adult per month, is based on a budget that is drafted and re-drafted at town meetings and voted on, line-by-line, once a year.
In addition, new members are also asked to provide a one-time membership fee, which may be paid in installments over time. This money goes to our capital fund, which is used to maintain the land, improve the community's facilities, stimulate cottage industries, and otherwise help the Farm develop.
Q: Why is it called The Farm?
A: The Farm's founders gathered all organic wastes from kitchens, stables, the canning and freezing plant, sawmill, and grocery and transported it to a central composting facility where it was turned by horses and then spread on the fields. More than 300 acres was restored to productive organic agriculture. Large orchards and vineyards were planted, as well as fields of strawberries, raspberries, and blueberries. A tree nursery was set up to propagate useful varieties of fruit trees and hard- and softwood species to be used in aforestation. Terracing and engineered drainage halted soil erosion from the tillable lands. Apiaries were constructed to pollinate fields, nurseries, and orchards. Use of polyculture and heritage seeds, cover-cropping, crop rotation, hand-picking, beneficial insects, snakes, lizards, toads, and turtles provided organic pest control (a book published by The Farm book company identifies pests and details natural management techniques. Shepherd's Purse: Organic Pest Control Handbook, has sold over 25,000 copies).
Like most things on the Farm, people called it just what it was, with little embellishment. For examples: Main Road, First Road, Second Road, etc.; the Book Publishing Company, the Soy Dairy, the Tempeh Lab, The Farm School, the Farm Store, the Gate, etc. Today the Farm is less a farm and more like an ecology of systems.
Q: What is the architecture of The Farm?
A: Twenty-seven multifamily residential buildings built between 1974 and 1978 experimented with two inexpensive and cost-effective elements of design, direct solar gain and superinsulation. Since 1978, all buildings constructed at The Farm have solar-orientation and are designed for energy efficiency. The Farm School is the largest passive solar, earth-bermed, and recycled-material school in the State. Many of the innovative architectural features of The Farm were displayed in the Appropriate Community Technology pavilion at the 1982 Worlds Fair.
Q: What about visitors?
We enjoy having visitors who write ahead to make arrangements. We have a primitive campground with running water and an outhouse. Some lodging is available in cabins and homes at reasonable rates. The Farm Store has an assortment of foods and supplies. Visitors are asked to not bring weapons or pets. Swimming is available at a guest rate of $1 per day. We can also make arrangements for groups to include a tour and a vegetarian luncheon.
Q: What is the Farm up to these days?
A: The 250 present-day residents of The Farm have not rested on their laurels, but continue to create and demonstrate low-consumption, high-fulfillment lifestyles within a caring, socially active community; to conceive, finance and launch daring business enterprises that revolutionize the fields they compete in; to reduce the burden of external government; to mitigate the negative environmental, health and economic impacts of unsustainable global patterns; to demonstrate and export a variety of integrated social development strategies which can encourage diverse cultures worldwide to bypass unhealthy transitions; and to become a living example of the healthy and fulfilling interdependence of human and natural communities.
In 1995, The Farm helped to launch the Ecovillage Network of the Americas (ENA), headquartered initially at the Farm Ecovillage Training Center. ENA links together the efforts of a wide variety of green communities, Eco-City projects, and incipient covillages to make the way easier for future ecovillagers and to lay the foundation for a major shift in Western consumer lifestyles across the broader culture.
Q: What is involved in establishing something the size of The Farm?
A: Most of the early settlers of The Farm arrived with only the clothes on their backs and a pocketful of dreams. Many life savings had been spent to get to Tennessee, find and acquire the land, and make the first land payment. Racially, religiously and ethnically diverse and spanning as much as 90 years of age, the original group of 320 were harassed by racially intolerant neighbors and the clandestine infiltration of state and federal law enforcement authorities.
Girded with ecumenical spirituality and an abiding sense of the utmost importance in their mission (the slogan on the lead bus of the caravan into the land was "Out to Save the World), the group persevered through its adversities. The first winter was marked by an outbreak of infectious hepatitis from a polluted stream. The second--known as "wheat berry winter"--is remembered as near-famine. But within 4 years The Farm had gained self sufficiency in food production and established a construction company with more than 80 skilled craftsmen. The Farm built schools, greenhouses, dry goods and grocery stores, and automotive, welding, woodworking and machine shops. It established child nutrition and sanitation standards, fire codes, and electrical, heating, lighting, and housing safety standards. Within 5 years it had founded a clinic, laboratory, dispensary, neo-natal ICU, and infirmary with more than 60 newly-licensed medical personnel and wide range of innovative programs in preventive medicine, serving not only The Farm, but the medically underserved area out to a 20 mile radius. The midwifery program, born in 1971, has delivered more than 2000 babies with outcome statistics vastly better than hospitals (Caesarean rates are only 1.8% versus 20% for hospital delivery). In large measure this is due to a comprehensive, family-based support program in prenatal and postnatal education, nutrition, and care. And because of early support and intervention for individual family problems there is no poverty, little domestic violence, and virtually no crime within the community.
Establishing a close working group with a good sense of fair process, acquiring land, incorporating and writing bylaws, and creating a means of support are less difficult than finding a common vision that will carry you over obstacles. No one can predict what those obstacles will be, only that they will be there. Our "glue" is our shared determination to make a difference in the future of our tiny blue home in space.
Q: Why do it?
A: Since we first came here, we've had the satisfaction of realizing many of the dreams and aspirations with which we began. After more than two decades on this land, we appreciate even more the security of a tight - knit, compassionate, community environment. Our children have the freedom to explore the woods or go anywhere in our town in safety. The adults they interact with are honest and caring. We have very nurturing and healthful surroundings. No one has to carry the burden of his or her problems alone, or to bear the entire brunt of some catastrophe.
We hold as a common belief that our outward works and goals should be seamless with how we choose to live -- and we choose to live in community with one another.
Because the villagers at the Farm enjoy the peace and quiet of their surroundings (and don't see themselves as living in Disneyland) they ask that visitors write or call in advance, or attend one of the regularly scheduled conferences and other special events hosted by The Farm.
Retreat and conference services are also available.
To contact us, call or write:
Vickie Montagne
34 The Farm
Summertown TN 38483
(931) 964-3574

ecovillage@thefarm.org
Click here to return to the
Tennessee Directory List
INDEX of STATES
Your Locality Registry
Be SURE to REGISTER before leaving!
---
319. Chattanooga, TN
We are looking for like-minded Christian individuals or families to join with us at our y2k endeavors if you want to call it that! We are at this point just about to search for land in the Chattanooga, TN area or anywhere within 50 miles of Chat.
Here is what we are looking for: we are not looking to "survive" y2k though we believe that there may be some tough times ahead. We are looking to simply change our lives and prepare for what could be the beginning of the end of this current way of life and we don't necessarily think that is a bad thing. If you are interested in knowing more about how we feel about that, email me and ask for the y2k Christian manifesto.
Again, we are looking for people who want to team up and form a preparedness community, not just to ride out y2k but to change to a rural, non-stress, non-rat race existence. Let's spend more time enjoying fellowship and pursuing a godliness lifestyle that reflects more towards the way Adam and Eve had it before the fall, living off the land for a large part of our resources instead of being so reliant on the current way things are run which is why y2k could be so bad.
Think home schooling and alternative medicines and a good, healthy diet and not of government assistance, Social Security, Medicare and other forms of dependence. We believe that God did not intend for his people to be reliant on living or collecting off of tax money of other people but to rely on Him and your fellow brother's and sisters's charity for your needs.
We are also seriously looking for true Sabbath keepers, sundown Friday to sundown Saturday. If you are not a Sabbath keeper but are interested in at least discussing the issue, feel free to email me on that also. Nevertheless, if you are a true born-again believer, we think you have something to offer.
We are looking for rural land which we will more than likely put a mobile home on for ourselves and we would like to be able to buy a large piece of land that could be subdivided so that you could own your piece and put anything you want to on it. The land would be very gardenable and self-sufficient having its own water. If you have money to do something, let's talk.
If you have plans to finance a land/home package, we would prefer you to think again because if y2k ruins the economy and it probably will and if the banks fail and they probably will, there may not be a way to pay the banks on your mortgage because of your financial problems due to the economy and the lack of a solid money system, at least for awhile. Banks may repossess and call in every unpaid loan and if you are a New World Order conspiracy buff, you might not think this sounds so far-fetched. It happened in the mid 1800's.
So what do you do if you don't have thousands to spend on land and a home of some sort? Well, this does not have to be as complicated as it sounds! If you commit to this and we get to know each other and find that our spiritual connection is real, God has ways of making things happen, amen? For example, could you "stoop" to sharing a piece of land and a mobile home with someone else of like mind?
If you are interested and we connect, we can link you to others of like mind (assuming they respond) and pool our money and just do the best we can. Some who are better off financially should be able to simply give or let you permanently use a piece of their land in exchange for any number of other barter items or services. We are really looing for commitments at this point. The money/land/home issues can be worked out to some degree if we move fast and get to know each other. Email me with anything on your mind concerning this. We cannot wait to hear from you!
Brett


Quartiz@aol.com
Click here to return to the
Tennessee Directory List
INDEX of STATES
Your Locality Registry
Be SURE to REGISTER before leaving!
---
336. Tennessee, Jacksboro area
engineer with military background. skilled in all trades welding,electrical,mechanical. outdoor type with most sutvival equipment weapons etc. Jacksboro area.
polaris025@yahoo.com
Click here to return to the
Tennessee Directory List
INDEX of STATES
Your Locality Registry
Be SURE to REGISTER before leaving!
---
347. Middle Tennessee area
Looking for persons interested in forming survival groups, or joining a pre-existing group. Military training is a plus. No racists, hate-mongers, white supremacists, subversives or anarchists need apply. This is pro-constitutional group for those interested in forming alliances with others in their immediate area for mutual defense and protection in the coming hard times. Area of coverage is from Nashville westward to Memphis. Thanks!:

gomezaddams@biosys.net
Click here to return to the
Tennessee Directory List
INDEX of STATES
Your Locality Registry
Be SURE to REGISTER before leaving!
---
"Other" Intentional Communities in TENNESSEE
Agape Community
Dunmire Hollow
Flatrock Community
IDA
Jump Off Cmty Land Trust
Moonshadow
Short Mountain Sanctuary
For an Explanation of "other"
Click here to return to the
TENNESSEE Directory List
INDEX of STATES
Your Locality Registry
Be SURE to REGISTER before leaving!
---
Still Another Survival Community
Do you know of another survival community? If so, please tell us at:
Survival@webpal.org
Click here to return to the
Tennessee Directory List
INDEX of STATES
Your Locality Registry
Be SURE to REGISTER before leaving!
---