It is recommended that you go through the following 10 steps in studying about the nuclear threat to North Carolina.
This mapper is on someone else's web site so that you will need to save this address in order to return here if your back button doesn't work. However, you want to be sure to go the mapper site and calculate the damage to probable targets (cities) around you.
c. Stock supplies.

7. My Survival Web Page contains links to lots of other information such as free books to download about nuclear survival, links to plans for building shelters, and even free consultation about building a shelter.

8. If you are SUPER concerned about nuclear survival you might consider joining the

Ark Two Community.

9. If you like, you can look at our Honor List for groups that we know of that have an existing rural location. Most of these, however, have no direct interest or preparation in regards to nuclear survival. At the bottom of this page is a Directory of our contacts in North Carolina. Many of the local entries for states were listed because of their Y2K concerns and may not have any nuclear concerns.

10. And finally, if you wish to be on the mailing list for my irregular newsletter in which I analyze current events in regards to the nuclear threat, you can sign-up here:


http://lists.pairowoodies.com/mailman/listinfo/arktwo

This link will take you back to the Index of all the States

Link to the Directory for North Carolina
---
The following is the most commonly used prevailing wind predicted fallout pattern, but remember, fallout can go anywhere or everywhere (and probably will).

Continental US Fallout Pattern for Prevailing Winds (FEMA-196/September 1990)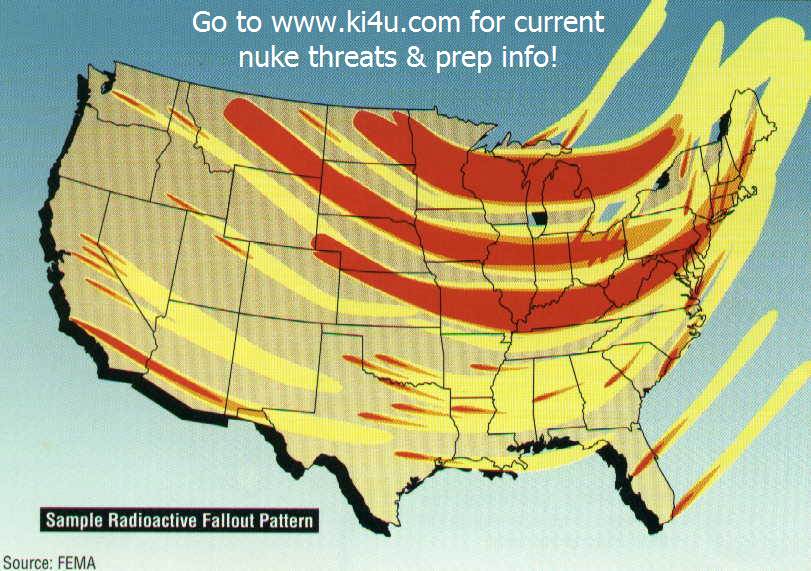 This link will take you back to the Information for North Carolina
This link will take you back to the Index of all the States
---
The Directory for North Carolina
---
North Carolina STATE Index

North Carolina (Asheville - and Tennessee?) Church Based
North Carolina (Asheville) 100 Acres
North Carolina (Asheville, Greensboro) (sustainable living community)
North Carolina (Asheville) Church Based - Hebron Ministries - State TEAM Leader
North Carolina (Asheville, Greenville)
North Carolina (Black Mountain) 325 acres

and sister communities Rosy Branch (50 acres) and Full Circle (35 acres)

North Carolina (Charlotte)
North Carolina (Pittsboro) 64 acres
North Carolina (Raleigh) 62 acres (hope to add several hundred more)
North Carolina (Secret location - Western) 92 acres
NORTH CAROLINA (Other)

Click here to return to the
North Carolina Directory List
INDEX of STATES
Your Locality Registry
Be SURE to REGISTER before leaving!
---
135. The Waller Group
A CHURCH based community.
Churches have a unique opportunity to prepare for Y2K.
They are ALREADY communities of people of KNOWN qualities.
A church can do things like organize around a rural member,
who already has a farm and who knows agriculture.
The Waller Group
NHebron Ministries
P.O. Box 16874
Asheville, NC   28806, TN
Craig Waller
615-356-7624

buznethel@mindspring.com
Click here to return to the
North Carolina Directory List
INDEX of STATES
Your Locality Registry
Be SURE to REGISTER before leaving!
---
125. Earthgarden
(sustainable living community)
Asheville, N,C.
Greensboro, N.C.
Carolyn Deal
336-854-4555

cwdeal@aol.com
Click here to return to the
North Carolina Directory List
INDEX of STATES
Your Locality Registry
Be SURE to REGISTER before leaving!
---
126. Samaritan 2000
A CHURCH based community.
Churches have a unique opportunity to prepare for Y2K.
They are ALREADY communities of people of KNOWN qualities.
A church can do things like organize around a rural member,
who already has a farm and who knows agriculture.
Hebron Ministries
Terry is also:
North Carolina State TEAM Leader
TEAM stands for Together Everyone Achieves More
The TEAM Leaders function is to tell you of other individuals in your geographic area, who are preparing and who would like to form a preparedness group or start a survival community.
Hebron Ministries
                 P.O. Box 16874
           Asheville, NC   28806
Terry Threadwell
(828) 275-3144

hebron01@aol.com
Click here to return to the
North Carolina Directory List
INDEX of STATES
Your Locality Registry
Be SURE to REGISTER before leaving!
---
245. Blue Heron
Blue Heron
Blue Heron Farm is a community of people who have purchased 64 acres of field and woodlands to share, protect, use and enjoy together in the central Piedmont area of North Carolina.
We are families, couples, and individuals who share some common values: environmentally sustainable living, celebrating life through the arts and play, closeness and connection across the generations, and a reverence for nature.
We are looking for others who share these values to join us. We welcome a diversity of individuals, families, and couples to explore our vision of cooperative family life.
The land has approximately twenty acres of fields in need of restoration, forty-plus acres of mature pine and hardwood forests, two ponds, a spring and a creek.
We are planning for fifteen households, living in either attached or separate residences, and a community building with a large eating and meeting area and other common rooms. We are committed to building with passive solar design, environmentally friendly materials, and making housing affordable.
Blue Heron Farm
115 Blue Heron Farm Rd.
Pittsboro, NC 27312

bhfarm@hotmail.com
Click here to return to the
North Carolina Directory List
INDEX of STATES
Your Locality Registry
Be SURE to REGISTER before leaving!
---
246. Earthaven
Earthaven
Earthaven is a spiritually diverse activist community developing on 325 acres in the Southern Appalachian Mountains of North Carolina, USA. Guided by permaculture design principles, we are building an ecovillage in the midst of a regenerating deciduous forest. Since 1995, when we took joint ownership of the land, we have been using the labor of many hands and the love of our one Heart to create our village and contribute responsibly to our children's future.
A community of visionary pioneers, we are committed to ecological living, fully democratic governance, diversity, tolerance, and educational service. We are shaping a culture of abundance that supports and integrates individual and community needs for wholeness and well being, transformative growth, lifelong learning, convivial relationships, environmentally friendly and liberating shelter and livelihood, wholesome food, creative expression, and an ever deepening connection to Earth and Cosmos. Culture's Edge, our educational organization, sponsors courses and internships in permaculture, earth care, natural building, the creative arts, holistic health, community building, eco-spirituality, consensus decision making and group process, ecovillage design, and other subjects essential to regenerating and sustaining human culture.
We have thirty full members and expect to grow to 120-160 people. We have created a closely settled hamlet of small shelters using natural and local materials in a mix of traditional, conventional, and experimental building methods, emphasizing efficient energy design and use of renewable energy. From this base, we expect to expand into eleven "neighborhoods" of leased site holdings, radiating from the village center where we are now building public infrastructure. Agricultural lands are reserved for cultivation; most hillsides will be managed for biodiversity restoration and sustainable forest yields in long rotations of native and high value forest species. We mill our own timber for construction and host a small whole grain bakery, adding new crops, products, and services each season.
We are looking for adaptable, skilled, self-reliant, brave hearted, and responsible cultural evolutionaries to join us.
Our Intent
Spirit manifests in the great and small: in ecosystems, social relations and personal process. The more juice we put into life, the more Spirit-filled and juicy it is! Our intent in forming Earthaven Village is to let the Spirit of life dance through us, with us, and teach us in turn to dance with It. That's why we base our site planning and use agreements on the design dance with nature known as permaculture. We are connected with everyone and everything, and the quality of attention we give to our personal growth, to the management of our habitat, and to our relationships determines the quality of life we experience.
To nourish and sustain this level of awareness, we commit our lives to the transforming collective consciousness of village culture, knowing we will each benefit from the cumulative experience, understanding and adventurousness of all our members. We feel our commitment as an awesome response-ability to personally contribute presence, attention, clarity and (whenever possible) good humor to whatever we do together.
This is how we intend to build Earthaven. We ask a lot of ourselves, and we are looking for others who can ask as much of themselves. It's a magical, unpredictable dance- and some of the world's finest people are learning the steps!
Who Are We?
We are the members and pioneers of a planned permaculture ecovillage, actively engaged in building sacred community, supporting personal empowerment, and catalyzing cultural transformation. We call ourselves "neo-tribal" because we envision a rebirth of tribal village life that is a contemporary adaptation to the challenges of our time, experienced as an interbeing with one another that respects and enhances the integrity and uniqueness of each individual. We want our lives to express how much we honor Nature's sacredness and the oneness of all life.
We share a vision of a community with a vital, diversified spirituality, healthy social relations, sustainable ecological systems, and a low maintenance/high satisfaction lifestyle. We are concerned with the health and future of the Earth and the welfare of all living beings, and we look forward to sharing what we learn in useful, replicable ways, with the world at large.
Our membership is a living mandala of visionaries, builders, healers, artists and warriors of the heart. In our desire to model "extended functional family" life, we endeavor to balance respect and consideration of the rational and material with sensitivity to the wisdom and guidance inherent in the invisible and mysterious.
The lifestyle we're designing is intended to help us live as close as we can to Nature, so that we may be constantly reminded to celebrate her abundance and diversity. Our intention is to engage joyfully and in a healing way with our environment, embracing the challenges of our world and participating in their solutions. We seek to develop transformed leadership and decision-making traditions through the consensus process. Recognizing the disparate views within our circle as pieces of one whole, we are open to finding ways to include them all. We want to be in right relationship with ourselves, each other, and all our relations, and to fulfill our goal of being conscious and awake and of helping each other attain the awakened state.
What Are We Doing? How Are We Doing It?
Come to Earthaven and you will be immersed in a lively learning environment. As the home of Culture's Edge, a member-owned not-for-profit education center, our Village enjoys the ongoing presence of visitors, apprentices, students, and workshop participants. Throughout Spring, Summer and Fall, we host a variety of experiences in ecovillage design, permaculture, natural building methods, community process, Earth-friendly arts, personal growth, and sustainable health care.
Currently our members are focused on the design and maintenance of productive, regenerative, and harmonious human habitat systems. Experiments now being performed on common land are helping us to plan sustainable neighborhoods for the next phase of development. We look forward to enriched work lives close to home and to high-quality, cooperative enterprises with plenty of focus on creativity and play. Many of us are already planning environmentally-sound, land-based businesses that will employ other members as much as possible. The opportunity to co-create this biological and spiritual refuge as a bridge between the present and a viable future is our great privilege to undertake.
If you become an ecovillager at Earthaven, you'll be participating in the layout and development of a village structure designed to be resilient and stable enough to endure for seven generations and beyond. You will be prepared to contribute a lot of time and resources to this work. Spiritually, in addition to your personal practice, we hope you will enjoy opportunities to participate in seasonal pageants and ceremonies in accord with Nature's cycles and to honor individual rites of passage, as well as rituals for seeking inner guidance.
If our village is for you, you share our vision of a community inspired by a trusting group consciousness. You will find yourself in the pictures we've painted with these words, see yourself in the eyes of the members you meet, and feel yourself in the heartbeat of this beautiful land we call Earthaven.
After four years of community-building, we have a lot to share about our process and progress.
Earthaven was incorporated in 1994 as a homeowner's association. This means the community owns all of our land collectively, and that all users of the Association's property must be members. At the end of December 1994 we put a down payment on approximately 325 acres of forested land in Rutherford County, located about 10 miles south of Black Mountain and 30 miles southeast of Asheville. Since then we have been paying our mortgage through membership and siteholding fees.
Located on the main stage route between Rutherfordton and Asheville, our area was extensively settled over a century ago. According to local legend and archaeological evidence, it was the site of a native (probably Catawba) village. Today two neighboring sister intentional communities, Rosy Branch (50 acres) and Full Circle (35 acres), are home to about twelve families.
Lying between 2000 and 2600 feet elevation near the southeasternmost Appalachians, Earthaven land is a complex terrain that includes many microclimates. The land consists of several stream valleys which converge on Taylor Creek, a tributary of Cedar Creek, in the Broad River drainage. Water flowing across Earthaven reaches the Atlantic Ocean at Charleston Harbor, SC. Young third- and fourth-growth mixed hardwood forest with some hemlock and pine covers the hills and valleys. Wide bottoms and benches make up more than a quarter of the total area (unusual for this part of the Katúah mountain region), giving Earthaven extensive agricultural potential.
Our Full and Provisional Members so far include 13 men and 16 women who will share 20 residential and three business sites. About half of us are currently in couples, half single. Among us we have six children under the age of 13, three teenagers, and a larger number of non-resident adult sons and daughters. We expect to grow to at least 120 adults and children on over 50 home sites.
We recently chose our neighborhoods and homesites according to our Permaculture Site Plan, and are now finalizing our siteholding agreements. We are planning a variety of housing styles including single-family, duplex and compound houses, and small cohousing structures. Set in clustered neighborhoods surrounded by common land, all holdings have a good solar envelope and are accessible to village facilities. Homesites vary in size, most one-quarter to one-third of an acre, with the majority of agricultural land reserved for community and leased, private-venture use.
Our work so far includes developing an effective consensus decision-making process, creating site development guidelines, membership outreach, financing, the creation of campground facilities, improvements to the main road and trails, footbridges over creek crossings, timbering and sawmilling, and an experimental "tribal village" where members may live while developing their sites and building our community center and infrastructure.
The tribal village includes a straw bale kitchen with attached shower house, composting toilet, and root cellar. First year vegetable, herb and flower gardens are flourishing, and landscaping-including the planting of dozens of fruit trees-has begun. A variety of small cottages (called "huts") surround these communal facilities. Other members have set up domes, yurts, tents and travel trailers in the area. About a dozen people currently live in this "neo-tribal" experimental village.
We very much want Earthaven to model intelligent cultural, spiritual, economic and technical paradigms whether they are ancient, traditional or innovative. We intend our home to be a place where cooperation and conservation of resources and energy mark all our endeavors. We want to evolve a social and economic climate that supports small businesses and ecologically sound cottage industries. The current phase of our physical work embraces the creation of a large gathering hall and kitchen/dining facility in what is to be our Village Center. Completion of our permaculture site plan designating residential neighborhoods and compact development areas as well as areas suitable for orchards, market gardens, wetlands, specific businesses and wilderness is another main focus.
Another key piece of our vision is the development of an education center through which to teach programs in sustainable culture. The education center was recently incorporated as a 501(c)(3) not-for-profit corporation called Culture's Edge. Workshops in site design, natural building, community process and permaculture are already being presented. Our expanded vision of permaculture (permanent culture and agriculture) includes the spiritual, healing, and practical arts as well as trainings in group process and other sustainable community skills.
As we plan and work and celebrate together, we are getting to know the earth, waters, vegetation and creatures that live at Earthaven. We are also forming deep relationships with each other, many of which will endure for our lifetimes. Although the challenge of remaining aligned with a collective vision requires ongoing attention and self-inquiry, the process of working through our issues with one another is turning out to be the real glue of community building. All in all, we consistently conclude that we are privileged to be involved in this amazing personal and cultural transformation process.
There are several ways for you to become involved with Earthaven. If you would like to receive additional information, such as our by-laws or other agreements, please let me know. Should you decide to become a Supporting Member, you may attend all our Council and Committee meetings, during which time many documents and policies we are working with will be available.
If you feel you might want to make Earthaven your home, you may apply for Provisional Membership, a six-month "let's see if it works" period in which to explore more deeply our mutual alignment. As a Provisional Member, you would pay $3000 for your Residential Membership partially refundable). If you then chose to become a Full Siteholding Member, you would be eligible to purchase a ninety-nine year, transferable siteholding lease, available at the current rate of $13,000. These leases increase in price as more infrastructure is created. Up to four adults may occupy a single site. (At this time, all Provisional and Full Members also pay an annual dues of $180. Supporting Members are invited to choose between annual dues of $120 and $180.)
We are seeking a wide range of individuals, couples and families of all ages with interests and skills in sustainable rural living. Ideally they will have the maturity, confidence and endurance to contribute to ongoing cultural transformation-with all the challenges that implies-as well as practical knowledge in a variety of fields: certainly the arts, crafts, human dynamics, teaching, food production, commerce, small scale earth works, alternative technologies, building, healing and nurturance. Ongoing active participation from Full and Provisional Members in Earthaven's development-at the very least, four hours a week on community projects-is essential. To make this feasible, residence in the Asheville area is almost always a basic requirement.
Council meetings are held several times a month. We hold an Open Council on the second Sunday of each month to meet guests, share a pot-luck, and strengthen our bonds with one another, as well as to conduct Council business. Finance, Membership, Site Planning, Documents, and other special committees meet several times each month. Saturdays are almost always workdays, and work projects are scheduled continuously. The Open Council is an excellent time to introduce yourself and to observe our process. Just let us know when you would like to come-and remember, rustic conditions prevail as we move through these early peak work seasons.
Find out how to visit and then join. We've got some pictures to show you and you can read some articles about us.
Earthaven: PO Box 1107
  Black Mountain, NC 28711
  704-298-2399
  To arrange a visit, call our Voice Mail service at (704) 298-2399 and leave a number where a Visitors Coordinator can reach you.
Cultures Edge
1025 Camp Elliott Road,
Black Mountain, NC  28711

info@earthaven.org
webmeister@earthaven.org
visiting@earthaven.org
Click here to return to the
North Carolina Directory List
INDEX of STATES
Your Locality Registry
Be SURE to REGISTER before leaving!
---
247. Trinity Farms
Trinity Farms
The Mission of Trinity Farms International is to educate, working locally and as well as globally; Empowering Christians Spiritually, Physically and Financially!  Missions are at the heart of all that we do!
Man is a tri-fold being of Body, Soul and Spirit. Most of the time the body is overfed and the soul suffers for it. The spirit is the most important aspect of life and usually the last cared for and fed.
Let's change that!
Here is the Question: How do we Spiritually teach our families?   This is a major Question!  The spiritual side of man is the most important aspect of life. There is no higher call than knowing Jesus Christ as personal Lord and Savior.  When Christ called, many were living on the edge of society in search of something greater than self to live for.
Ministries along with communities cannot exist long if they do not learn to live for something greater than self! This is radically true for people!
Remember: The body must be strengthened and cared for inwardly with spiritual food and attention so that it can be strong.  This strength is only for the benefit of reaching out and serving others!
We work together to encourage the development of a lifestyle that is spiritually, ecologically and economically sound in a qualitative manner. "Where there is no vision, the people perish…" and we seek out a people desiring to hear from God and walk in greater integrity with one another. We are dedicated to rebuilding society today by becoming better stewards of the temple and resources of God. We are committed as a lifeline to Christian growth with a desire to be of service to others. Our security is in the one true God we serve!
Our aim is to feed the hungry, cloth the naked and visit the infirm along with any other provision that may be necessary with this attitude in mind: "In as much as ye have done it unto one of the least of these my brethren, ye have done it unto me!" (Matthew 25:40).
As God allows, we will always be a place of refuge for the wounded along with those in search of a living, healing relationship with Christ. We are here for Christians looking for a fuller expression of discipleship and those trying to break away from old habits. We are a needy people serving those desiring a place to grow spiritually staying right with God and it is God's Grace alone that sustains each and everyone of us!
THE HEALTH AND HEALING MINISTRY
      People today are crying out for the truth and Trinity Farms International has been         established for this one purpose!  People want biblical truth, medical truth, financial truth;                  They want Truth!                                                             "AND SO DO WE!"
Education is at the foundation of Trinity Farms, and plays a vital role in weaving together all the unique areas of ministry. Another big question is how do we deal with health issues: To whom do we turn? Major Question!
The Health and Healing Center is that part of the ministry that deals with lifestyle change and health by choice. It is your choice and it is our choice! So choose! Through Christian Wellness Systems people are taught how to care for the body through diet and prevention of disease. The center will work with individuals to assist in their healing.
Christian Wellness Systems is a Christ-centered ministry focusing on cutting-edge alternative responses to health challenges that face many today. The ministry is committed to bringing these responses to the attention of all interested in this information. We are developing a large database and in the near future plan on having a hotline for assistance and information. Out of this will evolve Christ centered ministry centers with a number of resources for help and education. We will also act as a facilitator to help people network with other centers around the world.
It is possible that we do not have to be sick! Learn how to obtain the health and happiness God intended you to have! "Beloved, I wish above all things that thou mayest prosper and be in health, even as thy soul prospereth." lll John 2
Knowledge is Power and with correct knowledge, we believe anything is possible once you have the correct information to establish change. Christian Wellness Systems has a unique way of dealing with a variety of situations. It is based upon a belief in the body's innate God given ability to heal itself when presented with a natural healing arena. Remember the body is self-healing when healthful practices are followed! It all comes back to structure and it all starts with Jesus Christ and the grand working of His sweet Holy Spirit!
Christians ought to be the healthiest and happiest people on the face of the earth! We have a Mission! We know why we are here and we have been appointed to a final destination!
THE JOSEPH COMPANY
The Joseph Company works in association with Trinity Farms International. We are developing many products and services and creating new avenues for people to access them.
Our desire is to be on the cutting edge of all that is done. Through the Alternative Methods we employ; whether it is agriculture, building, health or finance, we feel we can help many people the way Christ taught, being "wise as serpents and harmless as doves." This area is wide open and we welcome all new and creative ideas! Through various creative programs we can show people how to be involved in the work of full time ministry.
Question? What did Jesus say about the money? He had a lot to say! So, we continually focus on quality and fairness. Through our efforts we provide the opportunity for evangelism and learning the principles of discipleship while growing in Christ. This helps shape our understanding of what serving God and others means!
How do we feed our families? Where do we get the food? How is it grown? These are major concerns for us and we are exploring many avenues for the solution. Alternative Agriculture, such as permaculture is one of the most popular systems we will employ. Jesus said; teach a man to fish and you have fed him for a lifetime! As these programs are developed our mission will grow to educate locally as well as globally.
Quality is imperative and we are interested in using cutting edge technology in our designs. Alternative building, along with solar and other techniques, allows us to build reliable, ingeniously simple, low maintenance, fuel free homes that are long lasting and aesthetically pleasing. Homes built with solid wood, stone and glass walls will circulate internal heat through a process known as thermal inertia, influenced by solar energy. This system is most efficient! Enertia Systems designs buildings for the next century and for the future.
With a substantial data base and cutting edge technology we will be state-of-the-art and networked globally with organizations positioned to help inform and educate many people. To God be the Glory!
WHY TRINITY FARMS
Trinity Farms International was birthed out of a need to deal with the whole man as Christ intended. Christ's mission was to set man free that he may serve God and brother. When man is set free: Spiritually, Physically, Financially, Mentally and Emotionally, he is free indeed: "And ye shall know the truth, and the truth shall make you free!"                                                                                                                          (John 8:32)
Dietrich Bonhoeffer said in"The Cost of Discipleship" that Christianity without discipleship is Christianity without Christ. "Costly grace was turned into cheap grace without discipleship."
To be Jesus' disciples we must continually guard our hearts, and with God's help surrender to His will rather than choose our own! We believe strongly in the family. The Bible is not vague in its definition of family structure. In fact structure is what it is all about! Be subject one to another, husbands love your wives, wives submit to your husbands, children obey your parents, parents provoke not your children to wrath. Starting from the head down, if one of these links is broken, the family is out of order. The family is one revelation of the love that Jesus has for His church.
Within Trinity Farms International there is an environment of commitment and support to the family. There will always be flexibility in the workload to accommodate special situations. If a couple needs time alone they are free to take it. During times of stress there are loving friends with gentle wisdom that can aid in restoration of the relationship. In corporate effort this is a luxury often missed by the single family!
Trinity Farms was birthed out of Acts 2, and is the answer to cooperative, corporate effort and networking! Networking and community create a much wider expression of love and concern for the children as well as a natural buffer for the strains of normal family life. Burdens as well as accomplishments are shared by all, not just the single breadwinner!
 PRESENT AND FUTURE PLANS
Trinity Farms International is presently organizing its legal and structural arrangements including the By-laws, Economic Agreements and Administrative Organization.
A Ministry and Operations Center in the Raleigh, NC area will be secured. This will consist of living quarters and office space for the core staff. This will become a focal point for the ministry and provide space for meetings, offices, and overnight or short-term visitors until the expansion of the Blue Ridge property.
Concurrent with securing office space will be the acquisition of office and computer equipment, vehicles, various types of machinery, and material for the ministry.
Outreach programs are continually being developed. Already operational is a Ministry Helpline that acts as a referral service for a variety of needs. This is part of our cyberspace ministry.
Once we have acquired the Ministry Center, additional outreach programs will begin. The following are being considered for immediate startup: