Comprehensive Potassium Iodide Anti-Radiation Pill FAQ with up-to-date iodine sources listed & prices
for Potassium Iodide (KI) tablets, Potasium Iodate (KIO3) pills, and all forms of radiation protection iodine!
---
Nuclear War Survival Skills
Email
Home
by Cresson Kearny
CHANGED EVACUATION REQUIREMENTS
The most threatening Soviet nuclear warheads in the mid-1970s were multi-megaton, such as single warheads of approximately 20 megatons carried by each of over 250 SS-18s. About half of these huge Russian warheads would have hit within a quarter of a mile or less of their intended targets - close enough to destroy a missile in its hardened silo. Today's improved Russian warheads have a 50-50 probability of hitting within a few hundred feet of their aiming points. With such accuracy, multi- megaton warheads are not needed to destroy very hard targets, especially missiles in their blast-protective silos.
Soviet strategy continues to stress the destruction of military targets, in order to minimize Russian losses from retaliatory strikes. This logical, long-established Soviet strategy is emphasized in numerous authoritative Russian books, including the three editions of Soviet Military Strategy by Marshall of the Soviet Union V. D. Sokolovskiy.
One result of this logical strategy has been the replacement of huge Soviet warheads by numerous, much smaller, much more accurate warheads. In 1990 almost all large missiles have several Multiple Independently-targetted Reentry Vehicles (MIRVed) warheads. Soviet warheads - especially the 10 warheads of 500 kilotons each carried by most SS-18s - could destroy almost all important U.S. fixed military installations, and also almost all U.S. command and control facilities, airport runways longer than 7,000 feet, major seaports, and the factories and refineries that are the basis of our military power. (Although an all-out Soviet attack could destroy almost all missile silos and missiles in them, a first-strike attack is deterred in part by the possibility that most U.S. missiles in silos would be launched on warning and would be in space, on their trajectories toward Russian targets, before Soviet warheads could reach their silos.)
How should your plans either to evacuate during a worsening crisis, or to remain in your home area, be influenced by the dramatic changes in the Soviet nuclear arsenal? Some of these changes are indicated by Fig. 4.1, that incorporates information on the dimensions of the stabilized clouds of one megaton and 200 kiloton explosions, from reference 6, The Effects of Nuclear Weapons, 1977, and similar information on a 20-megaton cloud derived from a graph on page 20 of The Effects on the Atmosphere qf a Major Nuclear Exchange, by the Committee on the Atmospheric Effects of Nuclear Explosions, National Research Council, National Academy Press, Washington, D.C. 1985. (This NRC graph is based on Ballistic Missile Organization 83-5 Part 1, dated 29 September 1983, a report that is not generally available.)
The air bursting of one of the probably few 20-megaton warheads carried by Soviet ICBMs would destroy typical American homes up to about 16 miles from ground zero. In contrast, the air bursting of an approximately 1-megaton warhead - one of the large warheads in today's Soviet arsenal - would destroy most homes within a roughly circular area having a radius of"only" about 5 miles. So, if you take into consideration the advantages to Soviets of arming their largest ICBMs with several very accurate smaller warheads, each capable of destroying a militarily important target, you may logically conclude that unless your home is closer than 10 miles from the nearest probable target, you need not evacuate to avoid blast and fire dangers.
Your planning to avoid incapacitating or fatal exposure to fallout radiation will involve more uncertainties than will your plans to avoid blast and fire dangers. The high altitude winds that carry fallout farthest before deposition usually blow from west to east. Therefore, in most areas your chances of avoiding extremely dangerous radiation dangers are improved if
Book Page: 28
Fig. 4.1. Stabilized radioactive fallout clouds shown a few minutes after air-burst explosions, with distances from Ground Zeros at which the wood frames of typical homes are almost completely collapsed. The clouds from surface or near-surface bursts are almost as large, but the distances of blast damage are reduced by around 38 percent.

you evacuate westward to an area away from likely nearby targets. However, since no one can foretell with certainty in what directions future winds will blow, your plans to remain where you live, or your crisis evacuation plans should include building, improving, or utilizing high-protection-factor shelter, as explained in following chapters.
If you live near a target the destruction of which has high priority in Soviet war-winning strategy, then a decade or so ago it quite likely was targeted by a 20-MT warhead. Fig. 4.1 shows the awesome size of the stabilized radioactive cloud from a 20-MT air burst. This cloud would expand in minutes to this huge size in the thin air of the stratosphere, would contain only extremely small particles almost all of which would remain airborne for weeks to years, and would result in no fallout deposition that would promptly incapacitate exposed people.
A 20-MT surface burst or near-surface burst would produce a stabilized radioactive cloud extending almost as far in all directions from GZ as would a 20-MT air burst. Its tremendous fireball would "suck up" millions of tons of pulverized rock and would contaminate those particles with its radioactive material. Fallout particles as big as marbles6 would fall from the stabilized cloud to the ground in minutes. Very heavy fallout could be deposited as far as 18 miles upwind from such a 20-MT explosion, with heavy fallout, capable of causing fatalities within days to weeks, extending downwind for several hundred miles.
A 1-MT surface burst,Fig. 4.1. would produce a stabilized fallout cloud unlikely to result in fallout being deposited in the upwind or crosswind directions from GZ beyond the range of the explosion's home-destroying blast effects. Clearly, the risk of your being endangered by very heavy fallout if you remain 6 miles from GZ of a 1-MT surface burst, and happen to be upwind or crosswind from GZ, is less than the risk you would have run a decade ago if you had stayed 18 miles upwind or crosswind from the same target, which had been destroyed by a 20- MT surface or near-surface burst.
Book Page: 29
HIGHEST-RISK AND HIGH-RISK AREAS
Highest-risk areas are those in which buildings are likely to be destroyed by blast and/or fire, and/or where a person in the open for the first two weeks after fallout deposition would receive a total radiation dose of 10,000 R or more. The largest highest-risk areas would be those within our five Minuteman missile fields, within a few miles all around them, and for up to about 150 miles downwind. These huge highest- risk areas are indicated by five of the largest black fallout patterns on Fig. 4.2.
Fig. 4.2 is an outdated, computer-drawn fallout map based on a multi-megaton attack considered credible 10 years ago. (An updated, unclassified fallout map of the United States, showing radiation doses to persons in the open, is not available.) This outdated attack included 113 surface bursts of 20 megatons each on urban and industrial targets, an unlikely assumption similar to those used in making some official civil defense risk-area maps that assumed surface bursts on all targets nationwide. Employing all surface bursts makes little sense to the military, because air bursting the same weapons would destroy most military installations, as well as factories and other urban and industrial assets, over approximately twice as large an area.
As will be explained later, to survive in such areas people would have to stay inside very good shelters for several weeks, or, after two weeks or more, leave very good shelters and drive in a few hours to an area relatively free of fallout dangers. A "very good" fallout shelter is one that reduces the radiation dose received by its occupants to less than 1/200th of the dose they would have received outdoors during the same period. If the two-week dose outdoors were 20,000 R, such a shelter with a protection factor of 200 (PF 200) would prevent each occupant from receiving a dose greater than 100 R -- not enough to incapacitate. Even a completely below ground home basement, unless greatly improved as described in Chapter 5, would give entirely inadequate protection.
High-risk fallout areas are those where the two- week dose outdoors is between 5,000 and 10,000 R. In such areas, good fallout shelters would be essential, supplied at least with adequate water and baby food for two weeks. Furthermore, survivors would have to remain inside shelters for most of each day for several additional weeks.
The radiation dangers in the shaded areas of the map are shown decreasing as the distances from the explosions increase. This generally is the case, although sometimes rain or snow' carries radioactive particles to the ground, producing "rainouts" of exceptionally heavy fallout farther downwind. Furthermore, this computer-drawn map made at Oak Ridge National Laboratory does not indicate the very dangerous fallout near the isolated surface bursts. Although the most dangerous fallout would be carried by high- altitude winds that usually blow from west to east, such simplified fallout patterns as those shown should be used only as rough guides to help improve chances of evacuating a probable blast area or very heavy fallout area and going to a less dangerous area. Wind directions are undependable; an enemy's targeting can be unexpected; weapons can miss. A prudent citizen, nomatter where he is, should try to build a shelter that gives excellent protection against fallout radiation.
A major disadvantage of all types of risk-area maps is the fact that poorly informed people often misinterpret them and conclude that if they are outside a mapped risk area, they are relatively safe from blast, fire, and even deadly fallout dangers.
Another reason for not placing much reliance on risk-area maps like Fig. 4.2 is that such unclassified maps available in 1986 are based on the largest attacks considered possible a decade ago. In 1986 the sizes of Soviet warheads are much smaller, their numbers are much larger, and their total megatonage and cap ability to produce fallout remain about the same as 10 years ago.
The outdated attack scenario used in producing Fig. 4.2 also involved the surface bursting of multi-megaton warheads totaling 3,190 megatons on military targets, including over 2,000 megatons logically surface bursted on our five Minuteman missile fields. Such an attackon our missile fields would produce about the same amount of fallout as is shown in Fig. 4.2. Today, however, heavy fallout from our missile fields would extend somewhat shorter distances downwind, because of the lower heights of the stabilized radioactive clouds from one-megaton and smaller surface and near-surface bursts, as compared to those of multi-megaton warheads that would have been exploded 10 years ago, at a time when a 20-megaton warhead was typical of the Soviet nuclear ICBM arsenal.
In 1986 hundreds of targets besides those indicated in Fig. 4.2 might be hit, but the total area of the United States subjected to lethal falloutprobably would be less than is shown in Fig. 4.2. To maximize areas of destruction by blast and fire, most targets in urban and/or industrial areas would be attacked with air bursts, which would produce little or no promptly lethal or incapacitating fallout - except perhaps in scattered "hot spots" where rain-outs or snow-outs could bring huge numbers of tiny, very radioactive particles to earth within hours after the air bursting of today's kiloton-range Soviet warheads. And since most Americans live far away from "hard" targets - especially far from missile silos, downwind from which extremely heavy fallout is likely - most of us living in or near high-risk areas probably would be endangered primarily by blast and fire, not fallout, in the event of a Soviet attack.
Book Page: 30
Fig. 4.2 Simplified, outdated fallout patterns showing total radiation doses that would be received by persons on the surface and in the open for the entire 14 days following the surface bursting of 5050 megatons on the targets indicated, if the winds at all elevations blew continuously from the west at 25 mph.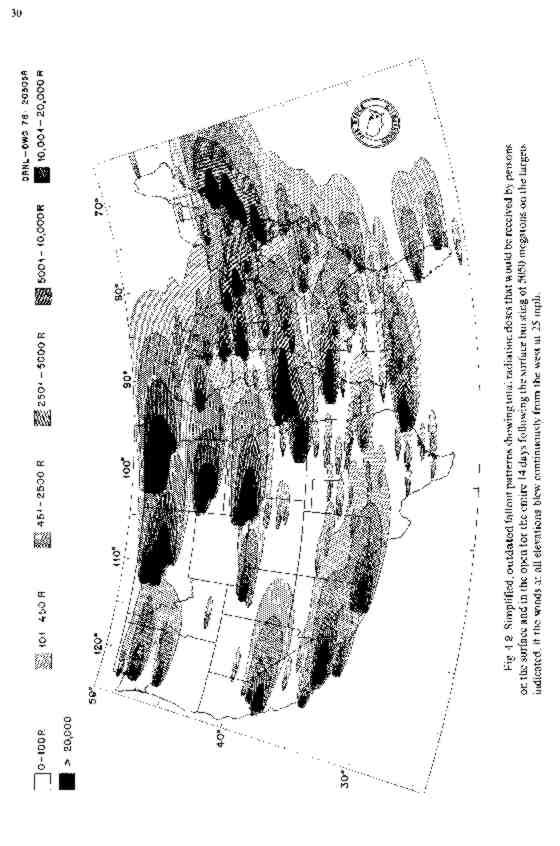 Book Page: 31
---